Faites passer votre marketing au niveau supérieur, grâce à l'automatisation des campagnes et la segmentation fine de votre cible !
Laissez nos campagnes automatisées travailler pour vous
Programmez-les et oubliez-les ! Intégrez des campagnes automatisées pour maintenir l'engagement de vos clients tout en vous concentrant sur votre business.
"Como est le roi des automatisations marketing : Como nous a aidé à créer des dizaines de campagnes automatisées afin de permettre à nos équipes Marketing de rester concentrées sur ce qui génère du revenu, sans avoir à piloter des campagnes manuellement et en continu."
Javier, Marketing Manager chez Burger King IL
Créez des campagnes parfaitement adaptées à vos objectifs
Définissez votre objectif business et laissez notre outil vous suggérer la campagne adaptée pour l'atteindre. Nos algorithmes la créent automatiquement pour vous, de façon à garantir des résultats optimisés et le meilleur ROI possible.
"Como nous a vraiment aidé à créer la campagne de l'été parfaite, avec le bon cadeau au bon moment, en offrant à nos clients un 'moment magique'. L'équipe Como s'est toujours montrée disponible pour contribuer à notre succès."
Anat, Directeur Marketing chez Delek Menta

Surprise and delight your customers with gamification
Amplify emotional engagement with personalized Spin the Wheel animations and Scratch & Win experiences.
Build a wow customer satisfaction and add fun & emotion to your guests' interactions, while implementing campaigns that Wheely work: increase your customers database, drive conversions, increase your average ticket and build lifetime relationships with them
"Como Sense is integrated to our POS, so we track customers' rewards and purchases and know what our customers like..."
Digital Managing Director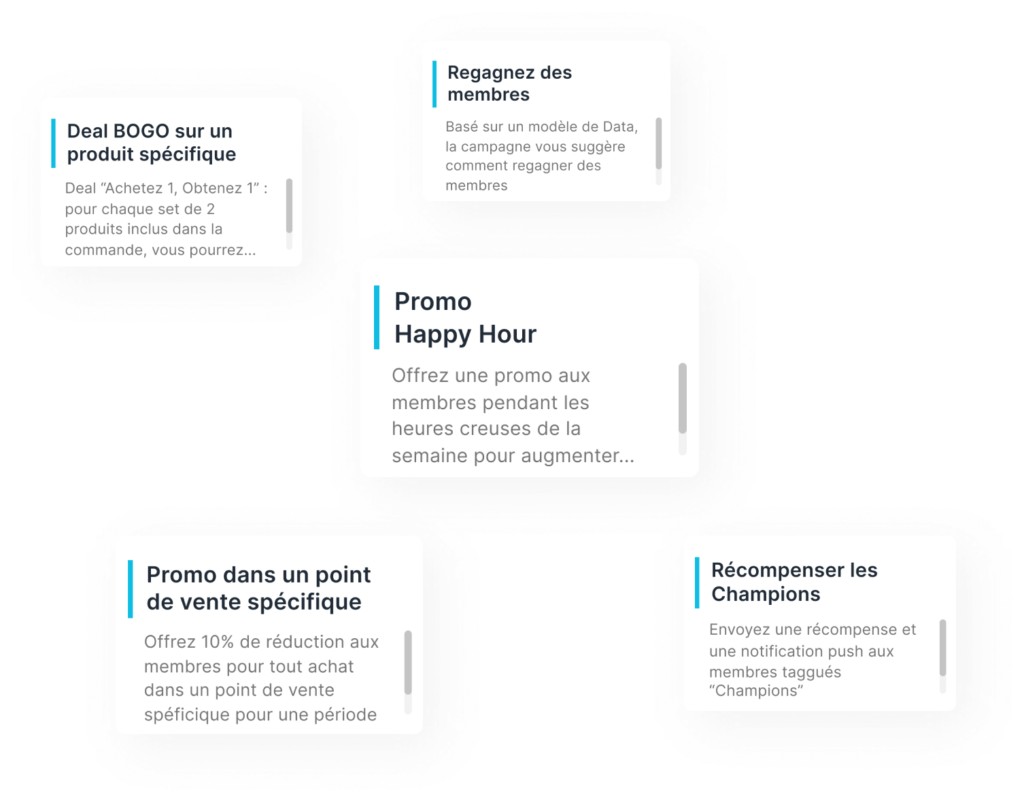 Créez vos campagnes en quelques minutes
Utilisez plus de 70 templates pré-programmés et lancez vos campagnes en un temps record.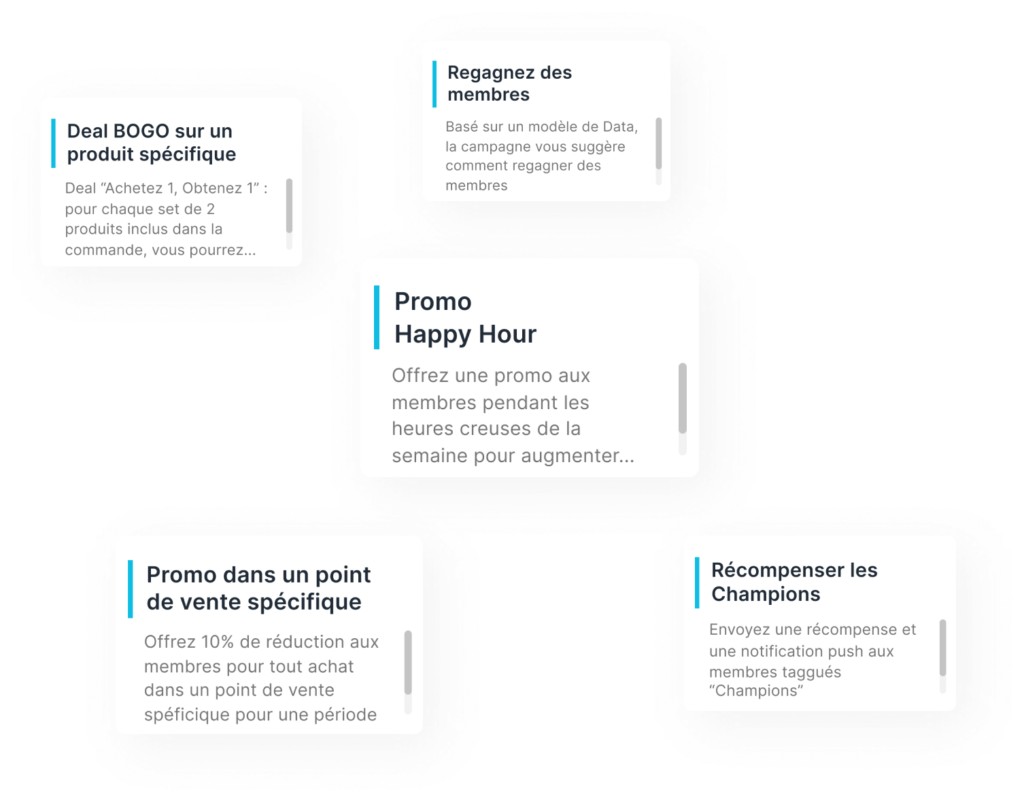 Ne laissez rien au hasard
Affinez constamment votre stratégie et améliorez l'expérience client avec l'A/B Testing. Apprenez à cibler vos membres pour un impact et une efficacité maximaux, et améliorez votre ROI - qu'il soit basé sur le taux de conversion, la fréquence d'achat ou la fidélité à long-terme.
Widen your customer reach with promo codes
Launch viral promo codes campaigns to both identified and non-identified customers. Promo codes are also great opportunities to collaborate with other businesses and bring their community to your stores
Ciblez vos clients avec une précision chirurgicale
N'envoyez plus de messages génériques : touchez la bonne audience au bon moment, avec des offres adéquates et impactantes. Notre outil de marketing automatisé, fondé sur la data, vous permet de déclencher chaque règle en fonction d'évènements précis, pour une personnalisation sans effort mais extrêmement efficace.
"Avec Como, nous pouvons identifier les comportements de nos consommateurs et les segmenter en fonction de leurs achats et dépenses. Dorénavant, nous pouvons offrir à nos meilleurs clients, des promotions immédiates en fonction de leurs préférences. C'est un moyen très puissant de les embarquer."
Ayhan, Directeur Général chez City Farm


Como fournit un programme de fidélité solide, qui intègre un puissant système de traitement et d'analyse des données, et nous permet de comprendre mieux que jamais nos clients : qui ils sont et quelles sont leurs préférences. Cela a révélé des connaissances fines sur les clients, qui étaient inaccessibles auparavant, par exemple leur magasin préféré ou leur supplément favori pour leur boisson fétiche.
Bilal, CEO chez JuiceBangBang
Vous avez des questions ou vous voulez rencontrer notre équipe autour d'un café ? Nous sommes à votre écoute ! Remplissez le formulaire et nous vous contacterons rapidement.
Ne nous croyez pas sur parole. Voyez ce que nos clients en disent !
"Como n'est pas qu'un CRM, une App mobile ou une solution de fidélité: c'est une solution d'engagement client complète et intégrée qui fera gagner des heures à votre équipe chaque jour et fera passer votre stratégie marketing au niveau supérieur… et de façon durable !"
Javier, Marketing Manager chez Burger King IL

"L'équipe de support client est incroyable, nous a aidéà passer de notre programme de fidélité obsolète à la solution Como sans aucun problème. Je ne pourrai jamais les remercier assez. "

Bilal, CEO chez Juice Bang Bang

"Bienvenue dans un monde de « Oui » avec Como, parce qu'ils vous aideront à résoudre chacun de vos problèmes ou challenges dès que vous en aurez !"

Kim, Propriétaire de VomFass LA
"La plateforme Como représente une part importante de notre activité. Surtout en ces temps-ci, elle nous a permis de rester viable quand d'autres petits business autour de nous ne parviennent pas à sortir la tête de l'eau. Como a toujours été un partenaire génial pour nous, et nous sommes excités pour le futur !"

Weston, Propriétaire de Eli's Coffee Shop
Veuillez renseigner les informations suivantes